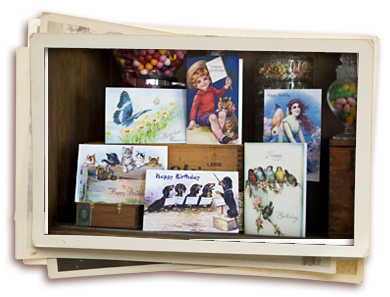 About Us
Our desire is to transport you back to a time when the streets were lined with buggies and Model Ts. An era when women in fancy dresses and grandiose hats daily enjoyed a cup of tea together and a gentleman always tipped his hat. Picture chubby cheeked babies in bonnets, gorgeous blooming gardens, soda fountains in drug stores, and Ferris wheels on boardwalks. That is Yesterday's Best.
Yesterday's Best proprietor Julie Kreitzer's card designing days began as a young girl sitting at her grandmother's oak table. There, in the sun-soaked common room, young Julie would transform vintage illustrations her grandmother had saved into handcrafted, glitter-enhanced greeting cards. While she sat, cutting and pasting, her grandmother shared stories of the past, igniting in Julie a passion for American history.
Many years later, Julie, now a renowned graphic design artist, would meet her soon-to-be husband John, a fellow American heritage enthusiast. Together, they entered the world of antiquing and devoted themselves to the preservation of vintage Americana culture.
Over the years, the couple amassed an impressive collection and, amongst it, thousands of gorgeous vintage prints celebrating the charming life of yesteryear. Returning to her childhood roots with a more sophisticated skill set, Julie delicately restores these proprietary vintage illustrations from her family's collection, some dating as far back as 1870.
Using premium quality paper and sustainable earth-friendly material, each image is further enhanced with upmarket glitter delicately applied by hand. All of our greeting cards are created and packaged in a workshop adjacent to our brick and mortar, The Golden Gait Mercantile, a time-honored traditional general store located in the small historic village of Ferndale, California.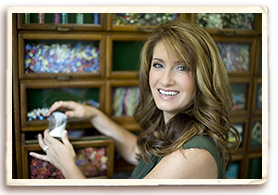 Our Product
Yesterday's Best is more than a greeting card company; it is a labor of love. Our hope is to preserve American culture and place otherwise lost vintage prints into circulation. Our premium greeting cards are purposefully designed to evoke warm wholesome thoughts of nostalgia in both the sender and the recipient.
Though we've traded in Model Ts for sedans and SUVs, and our afternoon tea takes place at a corner café, the idea of friendship and community remains just as relevant today. Our collection focuses on simple pleasures and small gestures, bringing Yesterday's Best into the present day. We hope you enjoy this timeless collection for many occasions to come.
It's been said, "Never forget where you came from." Each one of us, in one way or another, came from yesterday. To honor our history and heritage, we celebrate Yesterday's Best.